Red light therapy is one of the safest, most effective natural skin treatments available, and it's being used by some of the top skincare professionals in the world for wrinkles, rejuvenation, acne, and healing injuries & scars.
Across study after study, red light treatments have improved appearance, boosted collagen, improved healing times, lowered inflammation, and reduced acne & scarring. This article will also talk about some of the skincare professionals and everyday people using Joovv for better skin, with big results. We'll also break down the wealth of peer-reviewed clinical research on red light therapy and overall skin health.
So many top estheticians and dermatologists, and Hollywood celebrities, are using Joovv for healthier, younger skin, that the word is getting out. In 2019 alone, Joovv's natural skin benefits have been covered by Oxygen Magazine, Elle Magazine, Shape, Betches, Town & Country, and others.
The handheld, portable Joovv Go is especially popular for targeted skin treatments.
How Red Light Therapy Improves Skin Health and Appearance
Red light therapy is a natural skincare treatment that's been proven safe and effective across a large base of clinical research. If you're not familiar with red light and its benefits, this article gives a good overview of what it is and how it works.
The short version is this: light therapy delivers safe, concentrated wavelengths of natural light to your skin and cells, with no chemicals, UV rays, or excess heat. These red and near infrared wavelengths of light stimulate the mitochondria in your cells similar to natural sunlight, reducing oxidative stress and increasing circulation, so your body is able to make more core energy to power itself.
Making energy more efficiently throughout your body improves physical function, speeds the healing process, and lowers inflammation & pain, as demonstrated in numerous peer-reviewed studies. [1] It also significantly improves skin health and appearance, which is why Joovv is trusted by some of the world's leading estheticians, skincare pros, and natural health leaders.
Studies have also identified an increase in circulation following red light therapy, indicating tissues are receiving more oxygen and other nutrients important for healing—while also ridding themselves of toxic byproducts. [2]
Red light is a Natural Anti-Inflammatory Treatment for Skin
Red light therapy alleviates both acute and chronic inflammation by increasing blood flow to the damaged tissues, and it's been found in numerous clinical trials to increase the body's antioxidant defenses as well. [3] This natural anti-inflammatory effect of red light therapy, shown in study after study, is a key to its skin healing and appearance-improving effects.
You can read more about red light therapy and reducing inflammation here.
Red Light Therapy Increases Your Natural Collagen Production, for Healthier, Younger Skin
In addition to helping you make more energy, improving your circulation, and reducing your inflammation, red light therapy also boosts your own collagen production, for healthier, younger-looking skin.
We wrote a full post on red light therapy increasing natural collagen if you want to dive deeper. These are the basics:
Collagen is the most abundant protein in our bodies, and it's critical for skin health (and joint and bone health). Collagen literally holds us together, and the more you can produce naturally, the better for your skin, joints, and general appearance. Many people take collagen supplements or use creams, but there's no substitute for your body making more of the real thing.
In study after study, researchers have measured much higher natural collagen levels in the models and patients treated with natural light, especially with near infrared light. [4,5,6,7] Several human trials and laboratory studies on red light therapy have demonstrated a big boost in natural collagen stimulation, for younger looking skin and faster healing. [8,9,10]
A Wealth of Clinical Research Shows Significant Skin Improvements From Light Therapy
Red light therapy and Joovv can be found at some of the leading spas, clinics, and salons in the world because of its natural skin rejuvenating and healing properties. Red light is safe and effective for cosmetic skin health like rejuvenation, fighting wrinkles, and looking younger. And for more clinical purposes like recovering from surgery, burns, wounds, and improving the appearance of scars.
Red Light Therapy for Skin Rejuvenation and Reducing Wrinkles & Fine Lines
An extensive 2013 meta analysis of red light therapy's effects on skin and concluded:
Red Light Lessens Wrinkles and Signs of Aging: The analysis cited numerous studies showing how light therapy counteracts signs of aging in skin. Red and near infrared light has been shown to boost collagen, smooth wrinkles, and enhance skin tone, for an overall younger look. [9]
Red Light Rejuvenates Skin: The researchers noted red light was particularly effective for healing and skin regeneration, as well as reducing inflammation. [9]
Joovvin' for Healthier, Younger Looking Skin
Daily red light treatments help your skin regenerate faster, so you look younger. A 2017 trial assessed 30 women ages 30-55 who used red light therapy. The team concluded that red light therapy "had positive effects on wrinkle and moisture content of adult women's faces." [11]
It's also backed up by the experiences of real Joovv customers. Like Allison T:
"I have more energy after my Joovv sessions in the morning and it only took a few weeks to see my skin clearing up."
You can see more Joovv customer testimonials right here.
Top Estheticians and Skincare Professionals Trust Joovv for Acne & Wrinkles
Some of the best skincare pros in the world use Joovv for themselves and their clients. Like Shani Darden, one of the top estheticians in Hollywood, with famous clients like Jessica Alba.
Joovv is also proud to sponsor the Skin Games, an annual, international contest where some of the world's best skincare pros and estheticians compete in categories like acne treatment and wrinkle reduction. Melissa Poley is a former Skin Games champ, and a leading American esthetician. She used Joovv in the Skin Games this year and saw big results with her clients:
"2 of my clients used Joovv every day for 8 weeks. Christine wanted to cut down on fine lines and wrinkles, and Tasha was hoping for a natural acne treatment. Christine's skin looks WAY BETTER after 8 weeks of Joovvin', as you can see in Christine's results video.
Red Light Improves Acne, Eczema, Psoriasis, Cold Sores, and Vitiligo
Numerous peer-reviewed trials and studies have shown red light's positive effects on a wide range of skin conditions, both in terms of reducing pain and inflammation and itchiness, and improving appearance.
Red Light Therapy for Treating Acne: Researchers in 2013 highlighted studies showing red and near infrared light to be effective for the treatment of acne. Of note, they explained that red light impacts sebum production, which contributes to acne, in addition to the control of cytokines, which impacts skin inflammation. [9]
Red Light Therapy for Eczema & Psoriasis: We're just beginning to learn about the positive effects light therapy can have on psoriasis. Researchers cited a recent study that found "no adverse side effects and a resolution of psoriasis" for patients who weren't helped by traditional treatments. [8]
Red Light Therapy for Cold Sores: Research on red light and cold sores has shown reductions in breakouts, and less pain associated with cold sores from the herpes virus. [8]
Red Light for Depigmentation Conditions like Vitiligo: Red light has a strong record of improving re-pigmentation for skin with de-pigmentation conditions like vitiligo. [14] Researchers have shown that light therapy "can increase pigmentation by stimulating melanocyte proliferation and reduce depigmentation by inhibiting autoimmunity." [8]
Skin Healing Properties of Red Light Therapy
In addition to its rejuvenation and anti-aging properties, red light therapy is also a safe, natural way to speed up the healing process for burns, wounds, surgery incisions, and scars, as shown in numerous peer-reviewed clinical studies. Patients recovering from injuries and medical procedures have experienced much less pain and inflammation, with faster healing results, when using red light treatments.
You can read a full post on the skin healing properties of red light therapy here. Next, we'll break down the big highlights.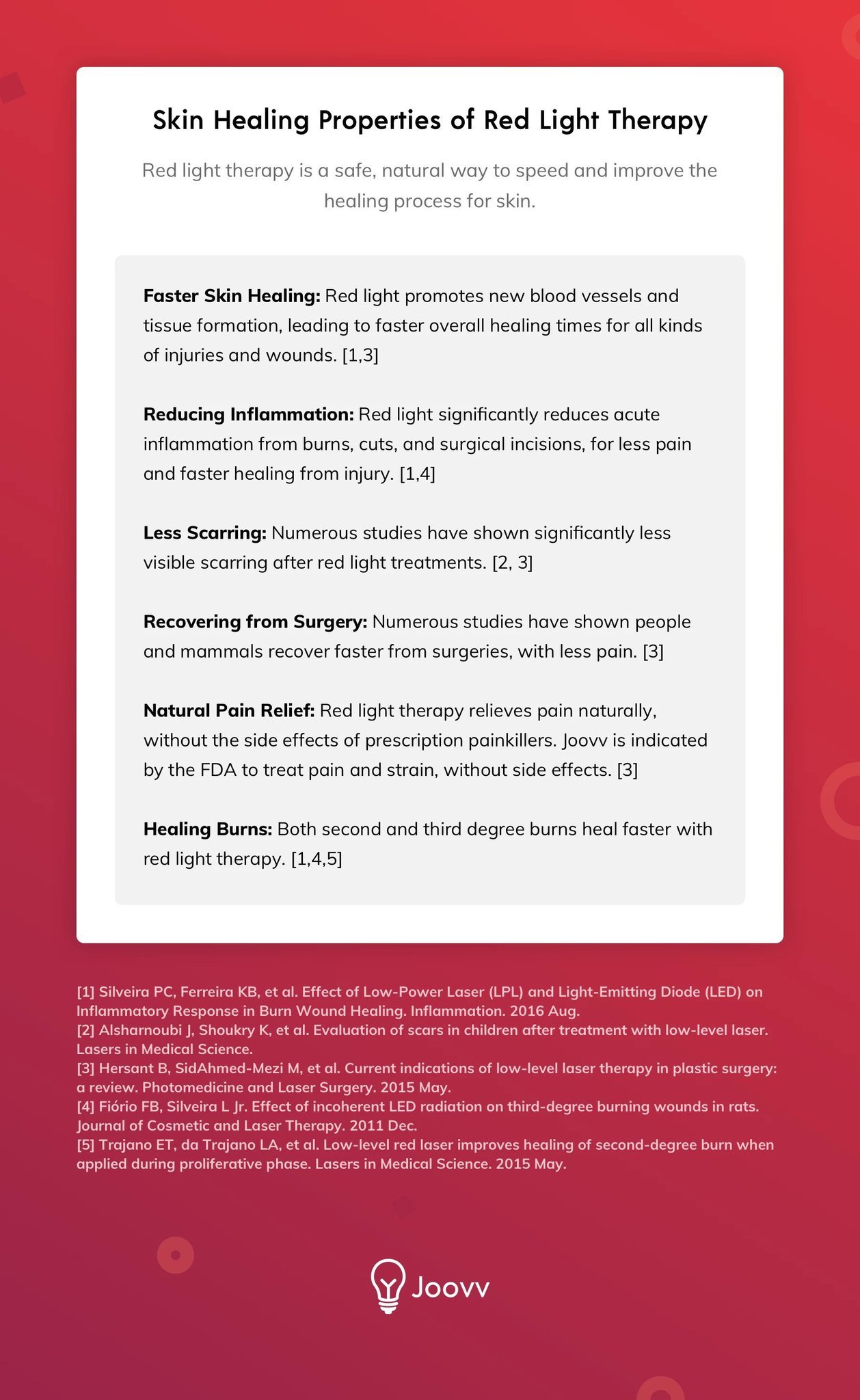 Healing Wounds, Cuts, and Incisions with Red Light
Red light therapy has a strong clinical record on healing wounds, cuts, and incisions, and for helping patients recover from surgery faster, with less pain and inflammation. A 2018 review examined numerous controlled trials on red light and wound healing. Researchers determined that, across trials and studies, red light therapy significantly increased tensile strength and wound contraction, for faster, more effective healing results across the body. [15]
Recovering from Plastic Surgery with Red Light
Red light therapy is an effective natural pain and inflammation reliever in all kinds of post-op environments, including plastic surgery. Many of these procedures create a great deal of inflammation that makes recovery longer and more painful. Red light therapy's natural anti-inflammatory effects reduce pain and swelling and speed the healing process for plastic surgery recovery.
Researchers in 2015 performed a systematic review of 40 studies (28 animal and 12 human trials) on healing from plastic surgery, finding that red light treatments helped heal acute wounds and also improved burn scars. [16]
Less Visible Scarring with Red Light
A 2004 study of burn scars found that patients treated with red light, on average, showed twice the decrease in visible scarring as those who didn't use red light therapy. No patients reported a negative effect from the treatments, which is the norm for red light therapy trials. [17]
Red light therapy has also been shown to be safe and effective for healing and lessening the appearance of raised scars in children. [18]
Natural Health and Skincare Professionals Use Joovv for Healing Skin
Natural health leaders are also using Joovv for its healing skin properties, especially for scarring. Katie of Wellness Mama tried red light therapy after her husband had hernia surgery:
"My husband used it twice a day and healed faster than expected, so I decided to try it too. The biggest thing I noticed was that my c-section scar and stretch marks from having kids started to fade. What mom wouldn't love that?"*
You can see more natural health leaders who use Joovv here.
Red Light Therapy Speeds the Burn Healing Process and Reduces Pain & Inflammation
Red light therapy treatments help people and mammals heal from burn wounds faster, and in a natural way with few risks or side effects. Peer-reviewed studies in 2016 found that red light accelerated the repair of burn wounds by reducing inflammation and increasing tissue formation. [19]
A 2018 study also showed red light aided the development of new blood vessels, and stimulated the increase of fibroblasts (cells that aid in tissue repair). [20]
Almost every lab study on red light therapy and burn healing has noted a significant decrease in inflammation levels versus placebo and control groups. [19,20,21,22,23] Less inflammation means less pain and discomfort during the burn recovery process. For more on how red light therapy decreases acute and chronic inflammation, check this out.
A recent systematic review evaluated 22 separate studies conducted over the last 17 years, with researchers concluding that red light is "effective in accelerating the healing process." [4] The results were very positive for both second and third-degree burns. [24,21,22]
Conclusion: Red Light Therapy Improves Skin Appearance and Healing
Red light therapy is a safe, effective natural skin treatment that's used every day by some of the top skincare professionals in the world for wrinkles, rejuvenation, acne, and healing injuries & scars. Across study after study, red light treatments have improved appearance, boosted collagen, improved healing times, lowered inflammation, and reduced acne & scarring.
Check out Joovv's devices if you're ready to try red light for healthier skin.
You can read more about red light therapy and its many natural health benefits at Joovv's Learn Library.
Scientific Sources and Medical References:
[1] Hamblin M. "Mechanisms and Mitochondrial Redox Signaling in Photobiomodulation" Photochemistry and Photobiology. 2018, 94:199-212. 2017 October 31. doi: 10.1111/php.12864
[2] Emília de Abreu Chaves M, Rodrigues de Araújo A, Piancastelli ACC, and Pinotti M. "Effects of low-power light therapy on wound healing: LASER x LED." An Bras Dermatol. 2014 Jul-Aug; 89(4): 616–623.
[3] Hamblin M. "Mechanisms and applications of the anti-inflammatory effects of photobiomodulation". AIMS Biophys. 2017; 4(3): 337–361. doi: 10.3934/biophy.2017.3.337
[4] Brassolatti P, de Andrade ALM, et al. Photobiomodulation on critical bone defects of rat calvaria: a systematic review. Lasers in Medical Science. 2018 Dec;33(9):1841-1848.
[5] Pinheiro AL, Gerbi ME. Photoengineering of bone repair processes. Photomedicine and Laser Surgery. 2006 April.
[6] Heo JH, Choi JH, Kim IR, et al. Combined Treatment with Low-Level Laser and rhBMP-2 Promotes Differentiation and Mineralization of Osteoblastic Cells under Hypoxic Stress. Tissue Engineering and Regenerative Medicine. 2018 Nov 17;15(6):793-801.
[7] Tschon M, Incerti-Parenti S, Cepollaro S, et al. Photobiomodulation with low-level diode laser promotes osteoblast migration in an in vitro micro wound model. Journal of Biomedical Optics. 2015 Jul;20(7):78002.
[8] Avci P, Gupta A, et al. Low-level laser (light) therapy (LLLT) in skin: stimulating, healing, restoring. Seminars in Cutaneous Medicine and Surgery. Mar 2013; 32(1): 41-52.
[9] Wunsch A and Matuschka K. A Controlled Trial to Determine the Efficacy of Red and Near-Infrared Light Treatment in Patient Satisfaction, Reduction of Fine Lines, Wrinkles, Skin Roughness, and Intradermal Collagen Density Increase. Photomedicine and Laser Surgery. Feb 2014; 32(2): 93-100.
[10] Barolet D, Roberge CJ, et al. Regulation of skin collagen metabolism in vitro using a pulsed 660 nm LED light source: clinical correlation with a single-blinded study. Journal of Investigative Dermatology. 2009 December.
[11] Kim HK, Choi JH. Effects of radiofrequency, electroacupuncture, and low-level laser therapy on the wrinkles and moisture content of the forehead, eyes, and cheek. Journal of Physical Therapy Science. 2017 February.
[12] Kim HS, Park WS, Baek, et al. Continuous irradiation with a 633-nm light-emitting diode exerts an anti-aging effect on human skin cells. International Journal of Molecular Biology. 2015 February.
[13] Liao X, Li SH, Xie GH, et al. Preconditioning With Low-Level Laser Irradiation Enhances the Therapeutic Potential of Human Adipose-derived Stem Cells in a Mouse Model of Photoaged Skin. Photochemistry and Photobiomodulation. 2018 July.
[14] Yu S., Lan CE, et al. Mechanisms of repigmentation induced by photobiomodulation therapy in vitiligo. Experimental Dermatology. 2019 February.
[15] Gál P, Stausholm MB, et al. Should open excisions and sutured incisions be treated differently? A review and meta-analysis of animal wound models following low-level laser therapy. Lasers in Medical Science. 2018 Aug.
[16] Güngörmüş M, Akyol U. The effect of gallium-aluminum-arsenide 808-nm low-level laser therapy on healing of skin incisions made using a diode laser. Photomedicine and Laser Surgery. 2009 Dec.
[17] Gaida K, Koller R, et al. Low Level Laser Therapy–a conservative approach to the burn scar?
[18] Alsharnoubi J, Shoukry K, et al. Evaluation of scars in children after treatment with low-level laser. Lasers in Medical Science.
[19] Silveira PC, Ferreira KB, et al. Effect of Low-Power Laser (LPL) and Light-Emitting Diode (LED) on Inflammatory Response in Burn Wound Healing. Inflammation. 2016 Aug.
[20] da Silva Melo, Alves LP, et al. LED phototherapy in full-thickness burns induced by CO2 laser in rats skin. Lasers in Medical Science. 2018 Sep.
[21] Fiório FB, Albertini R, et al. Effect of low-level laser therapy on types I and III collagen and inflammatory cells in rats with induced third-degree burns. Lasers in Medical Science. 2014 Jan.
[22] Fiório FB, Silveira L Jr. Effect of incoherent LED radiation on third-degree burning wounds in rats. Journal of Cosmetic and Laser Therapy. 2011 Dec.
[23] Rezaei Kanavi M, Tabeie F, et al. Short-term effects of extremely low-frequency pulsed electromagnetic field and pulsed low-level laser therapy on rabbit model of corneal alkali burn. Experimental Eye Research. 2016 Apr.
[24] Trajano ET, da Trajano LA, et al. Low-level red laser improves healing of second-degree burn when applied during proliferative phase. Lasers in Medical Science. 2015 May.
Joovv light therapy products are indicated for use in the relief of muscle and joint pain, including arthritis and muscle spasm pain, and increasing of blood circulation, and relaxation of muscles. The information provided in this article is for educational purposes only and is not intended to support the safety or effectiveness of Joovv devices, or diagnose, treat, cure, or prevent any disease. It's not a substitute for a face-to-face consultation with your healthcare provider, and should not be construed as medical advice.
Red Light Therapy For Hair Growth & Baldness
Red light therapy is a safe, effective, and natural treatment…
Get in Touch for a Consultation
We will discuss potential treatment plans for varying conditions during your consultation, and steps you can take to help improve these.